Global Chorus U.S. Edition to be released!
This October, 2015, a new edition of Global Chorus: 365 Voices on the Future of the Planet will be released by publisher Rocky Mountain Books. Featuring a Foreword written by Dr. Jane Goodall, the book will be available online and in U.S. bookstores later this Fall. Keep an eye on this website for news and developments surrounding this exciting upcoming release!
---
Global Chorus is excited to partner with Me to We Style on an exclusive line of eco-friendly apparel!
"Me to We Style is a social enterprise committed to providing quality custom apparel for socially responsible consumers. Our product line is ethically produced using eco-friendly fabrics which helps ensure that the least possible amount of toxic chemicals are harming our earth. Each year, Me to We Style donates half of our annual profits to our charity partner, Free the Children. Through Free the Children, we also plant a tree in East Africa for every piece of apparel that we sell as part of a long-term sustainability initiative.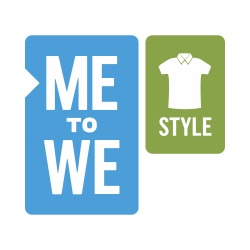 Through this partnership, Global Chorus has helped plant 140 trees and save 46 lbs of pesticides from entering our environment. For more information on our products and services, please visit metowestyle.com."
---