Today we are confronting the greatest challenge ever faced by a group of beings in the 4 billion year history of this planet: how to ensure not only the survival of the human race but the preservation of the rest of life on Earth.
Little by little, we have broadened our understanding of humanity's role in determining the fate of the planet and its species. But this awareness hasn't clearly translated into collective action. We have yet to bring together into one boundary-crossing book the visionaries of our times, our brightest minds, our most influential leaders, our most passionate voices. And now more than ever we need to hear their counsel on the future of the planet.
Global Chorus: A 365-Person Anthology of Worldwide Concern and Enduring Hope will give us this chance.
How it is being done is simple. 365 people from all over the world are in the process of being contacted with invitations for responses for Global Chorus. The invitation list includes writers, environmentalists, spiritual leaders, politicians, professors, doctors, athletes, businesspeople, farmers, chefs, yogis, painters, architects, musicians, TV personalities, humanitarians, children, concerned students and senior citizens, carpenters, factory workers, activists, CEO's, scientists, and essentially those who have something passionate and insightful to say about humanity's place upon Earth. Well known people on the list include environmentalists such as David Suzuki, Paul Hawken and Jane Goodall; scientists such as Stephen Hawking and Edward O. Wilson; celebrities such as Robert Redford, Oprah Winfrey, and Bono; humanitarians such as Nelson Mandela and Archbishop Desmond Tutu; political figures such as Mikhail Gorbachev, Prince Charles and Elizabeth May; writers like Dave Eggers and Eric Schlosser; and spiritual leaders like The Dalai Lama, Eckhart Tolle, and Thich Nhat Hanh.
Each contributor will provide a one-page response to the following line of questioning:
 "Do you think that humanity can find a way past the current global environmental and social crises? Will we be able to create the conditions necessary for our own survival, as well as that of other species on the planet? What would these conditions look like? In summary, then, and in the plainest of terms, do we have hope, and can we do it?"
Responses will be framed as a set of 365 daily meditations, thereby providing a practical means for readers to ingest this diversity of thoughts and ideas. In this way, Global Chorus is sure to be both shocking in its truths and predictions as well as inspirational in its messages of hope and optimism.
All contributors to this fundraising book will be donating their time and efforts, as Global Chorus proceeds will be distributed to a select group of organizations helping to recover, protect and sustain life on Earth. This group includes World Wildlife Fund, The Jane Goodall Institute, The David Suzuki Foundation and The International Committee of the Red Cross.
This is our most pivotal hour. What we need most is to spark imaginations, to ignite our passions. We need to raise our voices in a global chorus.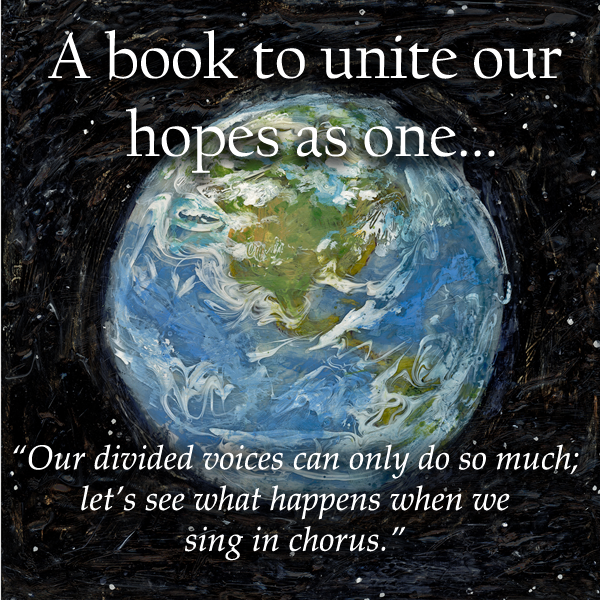 Jeffrey Hollender, co-founder Seventh Generation Inc., Jeffrey Hollender Partners & CommonWise
Frances Moore Lappé, lecturer, activist, author, Diet for a Small Planet and EcoMind: Changing the Way We Think To Create the World We Want
Swami Ambikananda Saraswati, Founder, Traditional Yoga Association and The Mukti Project
Roxanne Quimby, founder, Burt's Bees
Hannah Quimby, director, Quimby Family Foundation
Lucas St. Clair, director, Quimby Family Foundation
Trudie Styler, actress, producer and founder, The Rainforest Foundation
Dr. Heather Eaton, Professor, St. Paul University and Co-Founder, Canadian Forum on Religion and Ecology
Van Jones, environmental and civil rights advocate, Founder, Ella Baker Center for Human Rights, Green for All, and Rebuild the Dream www.rebuildthedream.com
Dr. Mary Evelyn Tucker, Founder, Forum on Religion and Ecology at Yale University
Thomas Berry, author, spiritual ecology theologian. (Special honourary posthumous response is drawn from The Great Work, pp. 7-8)
Peter Bevan Baker, Green Party Candidate in Prince Edward Island, Canada
Ravi Ravindra, author, spiritual lecturer, Ph.D. www.ravindra.ca
Dr. Paul Ekins, Professor of Energy and Environment Policy, UCL Energy Institute,University College London
William McDonough, designer, architect, and co-author ofCradle to Cradle: Remaking the Way We Make Things.
www.mcdonough.com
Fred Penner, Family Entertainer for Children of All Ages, and former host, CBC's "Fred Penner's Place"
Stephen Lewis, Distinguished Visiting Professor at Ryerson University and former Canadian Ambassador to the UN
Craig Kielburger, children's rights activist and Co-founder, Free the Children and Me to We
Barbara Winfield, artist, Mouth and Foot Painting Artists of Canada
Jim Merkel, simple living educator and author, Radical Simplicity: Small Footprints on a Finite Earth
Dr. Jean Kilbourne, Ed.D., author, educator, feminist activist, creator of the "Killing Us Softly: Advertising's Image of Women" film series
Theresa Helen "Susie" Matthias, mouth painting artist, Mouth and Foot Painting Artists of Canada
Jean Vanier, humanitarian, philosopher, and founder, L'Arche International
Sheila Watt-Cloutier, Environment, Cultural and Human Rights Advocate
Des Ritchie, President, Queensland Folk Federation in Australia
Lester R. Brown, President, Earth Policy Institute and author, World on the Edge
Tzeporah Berman, mom, author, This Crazy Time and co-director of Greenpeace International's Climate and Energy Unit. www.tzeporahberman.com
Maude Barlow, National Chairperson of the Council of Canadians, Chair of Washington-based Food and Water Watch, and author, Blue Covenant: The Global Water Crisis and The Coming Battle for the Right to Water
Robert Bateman, Canadian artist, environmentalist, naturalist.
www.robertbateman.ca
Ian Skelly, British writer, filmmaker and broadcaster, and co-author of Harmony with HRH The Prince of Wales.
www.ianskelly.co.uk
Frederick Kirschenmann, author of Cultivating an Ecological Conscience: Essays From a Farmer Philosopher.
Jamie Henn, Co-Founder and Communications Director
350.org
Amitabha Sadangi, CEO, International Development Enterprises in India
Stuart Pimm, Doris Duke Chair of Conservation at the Nicholas School, Duke University, and President, SavingSpecies
Professor Stephen Hawking, Emeritus Lucasian Professor of Mathematics at the
University of Cambridge, and author, A Brief History of Time
Gary Snyder, poet, essayist, lecturer and environmental activist
Sara Oldfield, Secretary General, Botanic Gardens Conservation International
Tony Juniper, campaigner, writer and sustainability advisor and former Director,  Friends of the Earth.
William Ruddiman, Professor Emeritus, Department of Environmental Sciences at University of Virginia.
Arran Stephens, Founder, CEO/Gardenkeeper, Nature's Path Foods
Dr. Peggy Seeger, musician, activist, grandmother
Annette Saliken, author,Cocktail Party Guide to Global Warming and Cocktail Party Guide to Green Energy
Bill Logan, founder, Urban Arborists
Andy Lipkis, founder, TreePeople
Tanya Ha, environmentalist, author, television presenter, science journalist and sustainable living advocate www.TanyaHa.com
Patrick Holden, Chief Executive, Sustainable Food Trust
Alan Weisman, author, The World Without Us andGaviotas: A Village to Reinvent the World
Dr. Kennette Benedict, Executive Director, Bulletin of the Atomic Scientists
John Ralston Saul, author,Voltaire's Bastards andCollapse of Globalism, and President, PEN International
Joanna Macy, Root Teacher of the Work That Reconnects
Joseph Tainter, Professor, Utah State University and author, The Collapse of Complex Societies
Chuck Leavell, conservationist, longtime keyboard player and musical director for the Rolling Stones, and Director of Environmental Affairs for Mother Nature Network MNN
John Seed, director, Rainforest Information Centre and co-creator, the Council of All Beings
Nelson Mandela (Response compiled with words extracted from speeches with guidance from the Nelson Mandela Centre of Memory)
Ann Henderson-Sellers DSc, Emeritus Professor, Macquarie University – North Ryde NSW, Australia
Wen Bo, former editor, China Environment News; China Coordinator of Global Greengrants Fund; founder, Xinjiang Conservation,  and Program Director of Air and Water Conservation Fund, National Geographic Society
Allana Beltran, Australian artivist
Summer Rayne Oakes, model/activist, co-founder, Source4Style.
www.summerrayne.net
Bob McDonald, host, "Quirks & Quarks," CBC Radio, science correspondent, CBC Television, author
Gloria Flora, Sustainability Leader Reconnecting People to Their Landscapes
Hawksley Workman, singer-songwriter
Jay Ingram, science writer, broadcaster
Marc Garneau, first Canadian astronaut in space, current Canadian Member of Parliament for Westmount–Ville-Marie
Curt Stager, climate scientist and author
Helena Norberg-Hodge, director, International Society for Ecology and Culture, and producer, 'The Economics of Happiness'
Wallace J. Nichols, PhD, Research Associate, California Academy of Sciences
Olivier De Schutter, UN Special Rapporteur on the Right to Food
Terry Tamminen, former secretary, California Environmental Protection Agency; founder, Seventh Generation Advisors; Strategic Advisor, R20 Regions of Climate Action; author Lives Per Gallon: The True Cost of our Oil Addiction and Cracking the Carbon Code
Kenny Ausubel, co-CEO and co-founder, Bioneers
Maren and Jan Enkelmann, authors, Happiness – How the World Keeps Smiling
http://www.enkelmann.co.uk
Sylvia Earle, Explorer in Residence, National Geographic and founder, Mission Blue
Wes Jackson, President, The Land Institute
Raffi Cavoukian, C.M., O.B.C., singer, author, ecology advocate, and founder, Centre for Child Honouring
Rajendra K. Pachauri, Chairperson, Intergovernmental Panel on Climate Change, and Director-General, TERI
Alastair McIntosh, author, Soil and Soul and Hell and High Water: Climate Change, Hope and the Human Condition

Lisa Bendall, freelance writer and blogger
http://www.50good
deeds.com
Bryan Welch, writer, rancher and publisher/editorial director, Ogden Publications, Inc., publishers of Mother Earth News, Utne Reader, Mother Earth Living and more, and author, Beautiful & Abundant: Building the World We Want.

Professor David Vaughan, British Antarctic Survey
Will Potter, author, Green Is the New Red: An Insider's Account of a Social Movement Under Siege

Rick Hansen, C.C., O.B.C., Difference Maker, spinal cord injury advocate, Canadian paralympian
Keibo Oiwa, cultural anthropologist, environmental activist, founder, Sloth Club and leader of the Slow Movement in Japan
 Farley Mowat, Canadian author and conservationist
 Spencer West, Author/Motivational Speaker/World Change Warrior, Me to We.
 Mike Holmes, Canada's Most Trusted Contractor, host, 'Holmes on Homes' and new series, 'Holmes, Makes it Right'
Paolo Soleri, founder, Arcosanti
George Mu'ammar, Spatial Analyst for the Food Security Analysis Service, Vulnerability Analysis and Mapping, World Food Programme of the UN, and beekeeper hobbyist
His Holiness The 14th Dalai Lama of Tibet
David Jewitt, Professor of Astronomy, UCLA
Mae Moore, Canadian musician, artist, organic farmer, activist
Carl Honoré, advocate of the Slow Movement and author, In Praise of Slow, Under Pressure and The Slow Fix
Dan Pallotta, author, Uncharitable and Charity Case, founder, Advertising for Humanity and the Charity Defense Council
Nikki Stern, writer, former Executive Director, Families of September 11, non-profit advisor and author, Hope in Small Doses.  www.hopeinsmalldoses.com
Temple Grandin, Professor of Animal Science, Colorado State University
The Honourable Stéphane Dion, P.C., Member of Parliament for Saint-Laurent – Cartierville, former Canadian Minister of the Environment
Professor Klaus Bosselmann, New Zealand Centre for Environmental Law, University of Auckland
Chris Hedges, co-author with Joe Sacco of Days of Destruction, Days of Revolt
Karl-Henrik Robèrt, founder, The Natural Step, and professor, Blekinge Institute of Technology
Beth Doane, author, founder, Rain Tees www.raintees.com and www.bethdoane.com
Mark Plotkin, Ph.D., President and Co-Founder, Amazon Conservation Team
David W. Orr, Paul Sears Distinguished Professor, Oberlin College
Amanda Lindhout, Founder Global Enrichment Foundation
Sir Tim Smit, Chief Executive, Development and Co-founder, The Eden Project
Silver Donald Cameron, author, current Host and Executive Producer, TheGreenInterview.com
Mark Z. Jacobson, Professor of Civil and Environmental Engineering and Director of the Atmosphere/Energy Program, Stanford University
Mayor Hazel McCallion, C.M., LL.D., City of Mississauga
Pete Hay, social theorist, activist, poet and essayist of Tasmania, Australia
Prof. Dr. Paul J. Crutzen, Max Planck Institute for Chemistry, Mainz, Germany, Nobel Prize in Chemistry, 1995
Ta'Kaiya Blaney, singer/songwriter, youth environmental activist. (Ta'Kaiya means "Special Water" in the Sliammon First Nation language.)
Richard Zurawski BSc, MA (Research), PhD candidate, author, lecturer, radio talk show host, meteorologist and documentary film maker

Sandra Postel, Director, Global Water Policy Project and Freshwater Fellow, National Geographic Society

Jen Boulden, Green Business Entrepreneur
 Frances Beinecke, President, Natural Resources Defense Council
John A. Vlahides, travel writer, TV personality from California

Michael Reynolds, architect turned biotect, inventor/founder, Earthship

Dave Toycen, President and CEO, World Vision Canada

Tony Wheeler, co-founder, Lonely Planet
Kristin McGee, celebrity yoga/pilates instructor and trainer

Moi Enomenga,

Huaorani Leader and Quehueri'ono Association President. Huaorani Ecolodge:

www.huaorani.com

Peter F. Sale, Assistant Director, Institute for Water, Environment and Health, United Nations University, and author, Our Dying Planet
www.petersalebooks.com
David V. J. Bell, PhD, Professor Emeritus and Former Dean, Faculty of Environmental Studies, York University  www.lsf-lst.ca
Richard A. Muller, Professor of Physics, UC Berkeley and Co-founder, Berkeley Earth
Martin Rutte, international speaker, consultant, co-author of the New York Times business bestseller Chicken Soup for the Soul at Work, and founder, Project Heaven on Earth www.projectheaven
onearth.com

Matthew Sleeth, MD, Executive Director, Blessed Earth and author, 24/6.

Mathis Wackernagel, Ph.D., President, Global Footprint Network
Seth Godin, author, The Icarus Deception  www.sethgodin.com

Alexandra Cousteau, explorer, filmmaker, water advocate, founder, Blue Legacy 

Kate Dillon, Mommy, Fashion Model, and Environmental Advocate
LGen (Ret'd) Roméo A. Dallaire, former Force Commander of The United Nations Assistance Mission For Rwanda, Canadian Senator, author, Shake Hands with the Devil, and founder, Roméo Dallaire Child Soldiers Initiative
www.childsoldiers.org

Andrew Blackwell, author, Visit Sunny Chernobyl 

Sy Safransky, Editor and Publisher, The Sun
Terrence J. Collins, Teresa Heinz Professor of Green Chemistry and Director, Institute for Green Science, Carnegie Mellon University

Cam Mather

, author,

Thriving During Challenging Times: The Energy, Food, and Financial Independence Handbook

and publisher, Aztext Press.

www.cammather.com

Dr. Kira Salak, writer, journalist, philosopher, National Geographic Emerging Explorer and extreme adventurer, author of The White Mary and The Cruelest Journey: 600 Miles to Timbuktu, www.kirasalak.com
Diego Pacheco, Ph.D., Head of Delegation in the CBD, Plurinational State of Bolivia

Franny Armstrong, Director, The Age of Stupid, McLibel and Drowned Out and Founder, 10:10

Carolyn Herriot, author, A Year on the Garden Path: A 52-Week Organic Gardening Guide, The Zero Mile Diet, and The Zero-Mile Diet Cookbook, and founder/operator, The Garden Path Centre

Adam Ravetch, wildlife cinematographer & film maker, National Geographic's Arctic Tale, Disneynature's Earth, To The Arctic IMAX, and Ice Bear 3D 
Manuel Pulgal-Vidal, Minister of the Environment, Perú
Wendell Berry, author, social and economic critic, farmer
Lauren Bush Lauren, CEO and Co-Founder, FEED Projects
Fatima Jibrell, women's rights and environmental protection advocate, founder and Senior Advisor, Adeso – African Development Solutions (formerly Horn Relief), and founder, Sun Fire Cooking www.adesoafrica.org and www.sunfirecooking.com
Roman Dial, Professor, Alaska Pacific University 

Elisabet Sahtouris, PhD, evolution biologist, futurist, and author, EarthDance: Living Systems in Evolution

Grant Lawrence, Host, CBC Music
Ryan Vandecasteyen, filmmaker, environmental advocate, and co-creator of The Pipedreams Project  www.thepipedreams
project.org

Gary Hirshberg, Co-founder and Chairman, Stonyfield Farm, and Chair, Just Label It Campaign

Leila Conners

, President and Founder, Tree Media Group, writer and director,

We the People 2.0, Into Eden,

and

The 11th Hour.
www.treemedia.com

Josie Maran, Chief Eco Officer, Josie Maran Cosmetics
Velcrow Ripper, speaker and award winning director, Scared Sacred, Fierce Light and Occupy Love
www.velcrowripper.com
Yongjune Park, Editor-in-Chief, Indigo Magazine, South Korea
 Ross Jackson, co-founder/chairman, Gaia Trust Foundation, Denmark, co-founder/funder, Global Ecovillage Network and Gaia Education, and author, Occupy World Street: A Global Roadmap for Radical Economic and Political Reform 
 Sarah Tawaka, Independent Environmentalist Advocate, Banaban Community, Rabi Island, Fiji
Mireya Mayor, PhD, National Geographic Explorer and author, Pink Boots and a Machete 
Göran Broman, Professor, Blekinge Institute of Technology, Sweden
Thomas Pakenham, author, Remarkable Trees of the World, Meetings with Remarkable Trees and The Scramble for Africa 

Céline Cousteau – multi-media documentarian, socio-environmental advocate, Founder/Director CauseCentric Productions

David L. Arnold, Ph.D., Executive Director, Northern Alaska Environmental Center
Ian Willms, Boreal Collective
Aram Hur, South Korean teacher, educator, publisher, lecturer, social activist and founder, Indigo Sowon
Ervin Laszlo, Chancellor, Giordano Bruno University and President, Ervin Laszlo Center for Advanced Study
Satish Kumar, Editor-in-Chief, Resurgence & Ecologist Magazine, founder, Schumacher College, and author, No Destination. www.resurgence.org and www.schumacher
college.org.uk
Elizabeth Kapu'uwailani Lindsey, Ph. D., humanitarian and the first Polynesian Explorer in the history of the National Geographic Society
Jan Zwicky, poet, essayist, author, Songs for Relinquishing the Earth, Wisdom & Metaphor, and Auden as Philosopher: How Poets Think
Liz Hosken, Director, The Gaia Foundation
Fernand Pareau, 85 year-old mountain guide of the Chamonix Mountains in France
Robert Bringhurst, poet, linguist, and author: A Story as Sharp as a Knife, The Elements of Typographic Style, and The Tree of Meaning 
Joel Bakan, Professor of Law, University of British Columbia, author/filmmaker, The Corporation: The Pathological Pursuit of Profit and Power and author, Childhood Under Siege: How Big Business Targets Your Childrenwww.joelbakan.com
Michael Dowd, evolutionary theologian, evangelist for Big History and Religious Naturalism, and bestselling author, Thank God for Evolution  http://thegreatstory.org/MD-writings.html
Scott Kennedy, Canadian born, New Zealand based Writer, Photographer and Filmmaker www.adventureskope.com
 David Holmgren, co-originator (1978) of Permaculture design system for sustainable living and land use, ecological builder and farmer, author, teacher and activist  www.holmgren.com.au
Jakob von Uexkull, founder, Right Livelihood Awards and World Future Council 
Sarah Harmer, musician, citizen
Lawson Drake, B.Sc.(Agr), M.S., Ph.D., former Dean of Science, University of Prince Edward Island
Dr. Maria Fadiman, National Geographic Emerging Explorer, Associate Professor, Geosciences, Florida Atlantic University
Ken Plummer, Critical Humanist, Emeritus Professor of Sociology, University of Essex, and author, A Manifesto for Critical Humanism in Sociology kenplummer.wordpress.com
Brock Dolman, Biologist; Co-Founder, Occidental Arts and Ecology Center; Director, WATER Institute; Permaculture designer/educator; photographer/poet www.oaec.org & www.oaecwater.org
Prof. Dr. Mustafa Abu Sway, Integral Chair for the Study of Imam Al-Ghazali's Work at the Holy Al-Aqsa Mosque and Al-Quds University, Palestine 
Doug McKenzie-Mohr, Ph.D., Environmental Psychologist and author, Fostering Sustainable Behavior 
Pam Cooley, Social Entrepreneur, Founder of the "Continuum of Collaboration" and CarShare Atlantic and practical visionary
Christina Pirello, Emmy Award-winning host of the national public television series 'Christina Cooks,' bestselling author, health activist 
Debra Prinzing, author, speaker, designer and founder of Slowflowers.com
Steven C. Rockefeller, professor emeritus of religion, Middlebury College, Vermont
Andrew Revkin, Dot Earth blogger, The New York Times, Senior Fellow for Environmental Understanding, Pace University
Colin Beavan, speaker, consultant, activist, human, and author/star of the book and film No Impact Man and director of the No Impact Project  http://www.colinbeavan.com
James Howard Kunstler, author, The Long Emergency, Too Much Magic, The Geography of Nowhere, The City in Mind, and the World Made By Hand series. Weekly blog and podcast at www.kunstler.com
Patty Webster, President and Founder, Amazon Promise
Leilani Münter, Race Car Driver and Environmental Activist  http://carbonfreegirl.com

Don Gayton, ecologist and author, Man Facing West, Interwoven Wild and Kokanee. www.dongayton.ca

Adria Vasil, environmental journalist, columnist and author of the best-selling Ecoholic book series
Jules Pretty, author, Professor of Environment & Society, University of Essex, This Luminous Coast (2011), The Earth Only Endures (2008), Agri-Culture (2002): www.julespretty.com
Edward O. Wilson, University Research Professor Emeritus and Honorary Curator in Entomology, Harvard University
Cheryl Charles, Ph.D., Co-Founder, President and CEO Emeritus, Children & Nature Network  www.childrenandnature.org
David Helwig, CM, former Poet Laureate of Prince Edward Island and author of over 40 books including The Stand-In, The Year One, and The Names of Things www.davidhelwig.com
Moh Hardin, author, A Little Book of Love: Heart Advice to Bring Happiness to Yourself & Others
Laura Elizabeth Clayton Paul, Earth's pupil, Eternally curious, Change agent, Sustainable Building and Community Specialist
Maya Angelou, poet, memoirist, novelist, educator, dramatist, producer, actress, historian, filmmaker, and civil rights activist
Carlos Manuel Rodriguez, Vice President, Conservation International; former Minister of Environment and Energy, Costa Rica
Ernesto C. Enkerlin-Hoeflich, conservationist, ecologist, pragmatic dreamer, Professor of Sustainability, Tecnológico de Monterrey, MEXICO, Chair, World Commission on Protected Areas-IUCN, President for Science, Pronatura, MEXICO
Lama Surya Das, authorized lama in the Tibetan Buddhist order, founder – Dzogchen Center, author – Awakening the Buddha Within, Buddha Standard Time: Awakening to the Infinite Possibilities of Now, and affectionately called 'The American Lama' by The Dalai Lama  www.surya.org and www.askthelama.com
Dr. Rajiv Shah, Administrator, U.S. Agency for International Development
Frank Rotering, independent economic and political thinker, author of "The Economics of Needs and Limits" and "Contractionary Revolution" http://needsandlimits.org/
Alex Shoumatoff, contributing editor, Vanity Fair; editor DispatchesFromtheVanishingWorld.com
Llewellyn Vaughan-Lee Ph.D., Sufi teacher and author: Spiritual Ecology, The Cry of the Earth. www.goldensufi.org, www.spiritualecology.org
Paula Kahumbu, CEO, WildlifeDirect, blogging platform and a voice for conservation leadership in Africa
Rick Fedrizzi, President, CEO, and Founding Chair of the U.S. Green Building Council
Jill Heinerth, Explorer, Filmmaker/Photographer, Author, Founder of the We Are Water Project www.IntoThePlanet.com
John Lundin, spiritual writer, environmental activist and author, THE NEW MANDALA – Eastern Wisdom for Western Living

, written in collaboration with His Holiness The Dalai Lama.

www.JohnLundin.com
Clare Delaney, environmentalist, sustainable living writer and speaker, and founder, EcoFriendlyLink www.EcoFriendlyLink.com
Simran Sethi, journalist and educator http://simransethi.com/
Dr. Joel & Michelle Levey, Social Architects and Compassion Activists; Founders, Wisdom at Work; International Center for Resilience, Wellness, and Wisdom at Work; International Institute for Mindfulness, Meditation and MindBody Medicine; Authors, Living in Balance; Luminous Mind; Wisdom at Work. Faculty, University of Minnesota Medical School. www.wisdomatwork.com